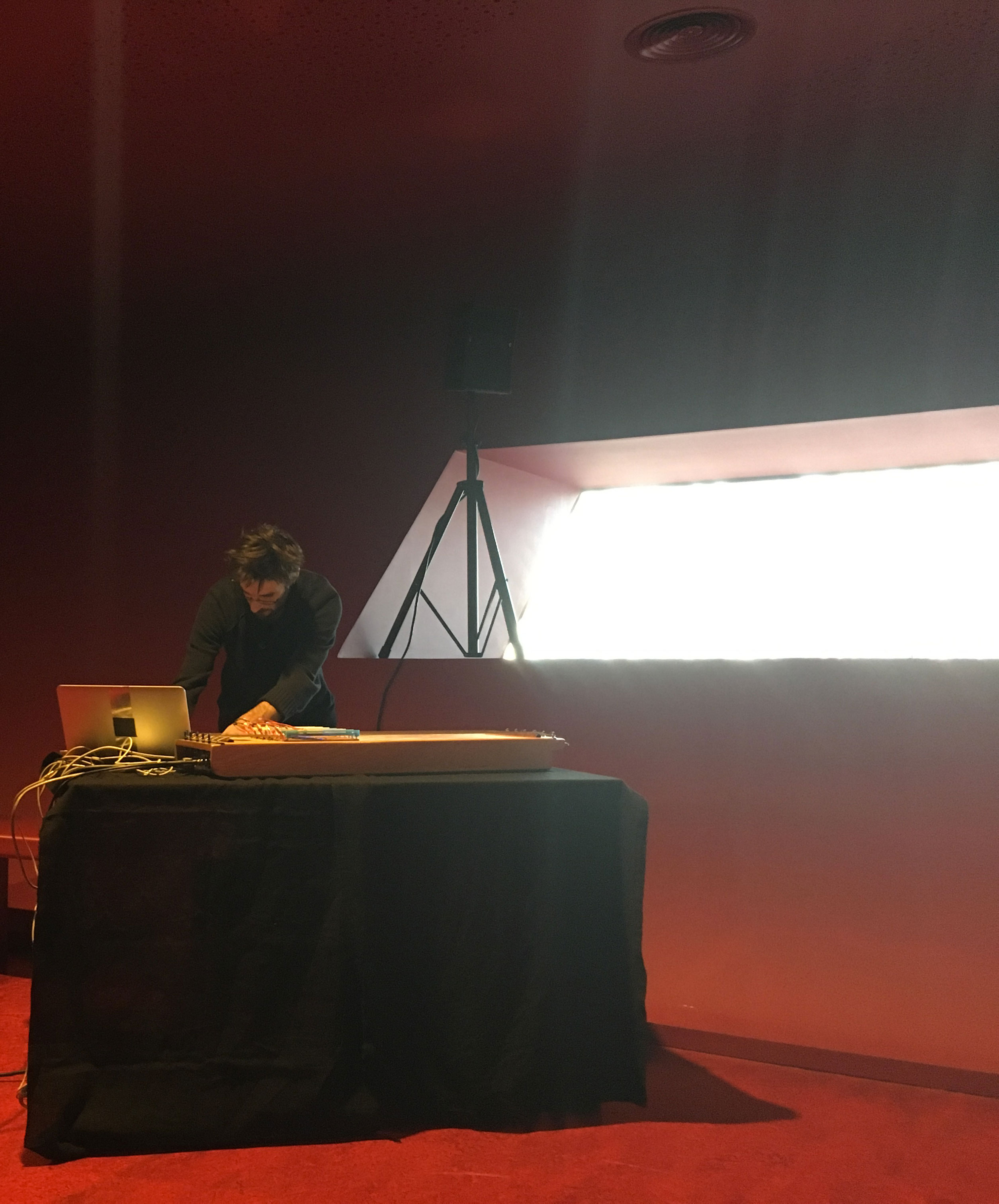 He studied classical music as a child, and received training in Architecture and Restoration of Ancient Heritage as a young adult. He then attended and get a DEM (1st prize) in Conservatoire de Bordeaux (C.Eloy, J.Y.Bosseur) and then with P. Leroux, T. Blondeau, R.R. Larivière in Paris.
He has follow workshop in France and abroad (PrototypesIII-Abbaye de Royaumont, IRCAM-Centre Pompidou, Orford Art Center, Imal, and Musique & Recherches), received Sacem Prize, 1st prize in competition "Vacances Percutantes" for a percussion quartet. The piece "Jupiter" receive public award and Mention Bernard Donzel-Gargand for the best narrative work on Luigi Russolo International Sound Art Competition. He received funding and grants from "Hessen-Aquitaine" (foundation Heinrich Mann) and "George Sand-Frédéric Chopin" (Foundation Genshagen).
Works have been accepted into competitions such as the "Banc d'essai-InaGRM", "Mixtur" and "Sirga" festivals, and was finalist on St Bertrand de Comminges Organ contest. Now !!! He composing electronic/acoustic pieces, constructs electro-acoustic instruments, conceptualizes sound installations, and provides electronic music & digital art workshops.
He has collaborated with art centers, companies and musicians. His works have been featured at festivals including Présences-Radio France, Festival Aujourd'hui Musiques, Festival Musiques Démesurées, Extension-La muse en circuit, Nuit d'Hiver-GRIM, Futura-Cie Motus, Spectaculare Festival-Prague, Antistatic Festival-Sofia, Sonic Odyssey-Los Angeles, In-Sonora-Madrid, Digital Marrakech-Morocco.
He has performed live at venues including 104—Paris, Center for New Music-San Francisco, CAPC-Bordeaux, and GMVL-Lyon.
He receive command for acousmatic music by Radio France, Cie Alcôme and a solo piece for e-String on Festival Aujourd'hui Musique-Theatre de l'Archipel.
He is well-known for the conception and construction of hybrid electronic/acoustic instruments, including the "e-String". To sustain this on-going projects, he completed residencies through "Arts & Science actions" of SCRIME & Bordeaux University in 2012-2013 and at Le Shadok & Lutherie Urbaine in 2017.
Contact : florentcolautti[@]gmail.com